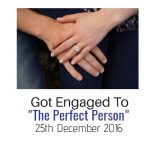 We at Troy Chauffeurs are delighted to see our Facebook feed is filled up with people getting engaged this Christmas.  Not only because we are a bunch of hopeless romantics here at Troy Chauffeurs but also because we like nothing more than donning our best suits and polishing the chrome on our beautiful Weddings Cars to join in your special journey, as you begin your life of married bliss.
Extending a big thank you to our wonderful clients, who availed of our wedding car experience last year.  The feedback about both our drivers and cars was greatly appreciated, we almost blushed – if it were not for our experience in delivering perfection. We are passionate about listening to our customers, creating that special moment and then delivering that experience for them because after all it is All About You!
January is the time of year when we speak with a lot of people about their wedding plans, fresh from wedding fares & hotel showings.  Last year we noticed an even greater trend towards modern stylish wedding cars and away from the sometimes cramped older/kit cars.
Have a look at our FLEET page
So, are you in the organising mode? Have you got your wedding planner out and are making a list? Cutting pictures from magazines and making mood boards?  If you are then we would be delighted to speak with you and discuss your wedding day arrangements. Troy Chauffeurs can offer advice on the best type of wedding car and also how to move your wedding party about on the day, so everyone (including the Bride) arrives on time, with people carriers and larger transport options.
A wedding car from Troy Chauffeurs ensures you arrive in style, in a modern, elegant and spacious car for that special day.
Your wedding day car hire starts with us arriving early and working with you as we drive to the ceremony, afterwards for a photo shoot and finally to the wedding venue.

If you book and pay a deposit for a wedding car before the end of January 2017 then you will automatically enter our competition